"Design, if it is to be ecologically responsible and socially responsive, must be revolutionary and radical." _ Victor Papanek
We are moving in a really complex and exciting epoch, defined as Post-modernism, Liquid Modernity, Forth Industrial Revolution, etc. that is characterized by a continuous evolution of the worldwide economic and social scenario, with tremendous technological improvement on one hand and climate change, biodiversity loss, resources depletion on the other, that call for a radical response from the design community. Anthropogenic pressures on the Earth System have reached a scale where an urgent change of route towards sustainability is inescapable. At the same time, the understanding of the raising complexity in natural and social systems, resulting by the discoveries occurred during the last century in Physics, Cybernetics, Biology, etc. made the reductionism view inadequate opening new opportunities.
As a designer I adopt the Systemic Design (SD) methodology, going beyond the traditional eco-design approach, that results as a supportive tool during the whole design process to look at the product in its complexity and to organize all the actors of the project by giving them the ability to relate and evolve autonomously.
Starting from the observation of natural phenomena, the SD approach aims to "learn from nature" not just for mimicking the natural technologies, but for designing a product system able to positively interact with a dynamic environment and an evolving society. The SD methodology has been developed with the aim of implementing sustainable productive systems in which material and energy flows are designed so that waste from one productive process becomes input for other processes, avoiding being released into the environment and promoting a Circular Economy.
"It is well know that the design process usually determines 80% of the environmental impact generated by a product or a service." _ Design Council
The design process of products and services is based on a solid environmental and economical assessment supported by the adoption of various tools such as the Life Cycle Assessment (LCA), Eco-Audit, Eco-Materials Selection, in order to guarantee the most eco-effective solution during the whole life cycle. Specifically, together with Life Cycle Engineering Srl, I've developed the EcoAudit tool that supports the designer during the decision-making phase through more sustainable solutions.
SD is a trans-disciplinary approach that implies a collaboration with professionals from other disciplines in a co-creative process able to give a proper answer to the project needs.
I collaborate with Life Cycle Engineering Srl for all the aspects related to LCA, Material Selection, and Environmental Communication (EPD, Eco labelling, etc), and with Politecnico di Torino (Italy) and University of Washington (Seattle-WA) for specific topics related to science and engineering.
"If you take the total weight of the planet's ants on one hand and the total weight of  human beings on the other, you'll see that the ants' weight is four times higher. It is  not only the number, but ants weigh out human beings. Further they have a much  shorter life span than we have. And because they work much harder physically than  we do, the calorie consumption of ants equals about 30 billion people. It is clearly  not about the fact that we are too many. Ants don't produce waste. They don't need  to minimize waste. They produce nutrients. Again it is a design question". _ Michael Braungar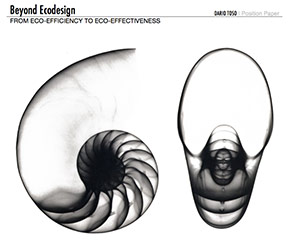 > Beyond Ecodesign: from eco-efficiency to eco-effectiveness