Below there is a short portfolio containing the most relevant projects I've done during the M.Sc at Politecnico di Torino.
2006| AIR CONDITIONER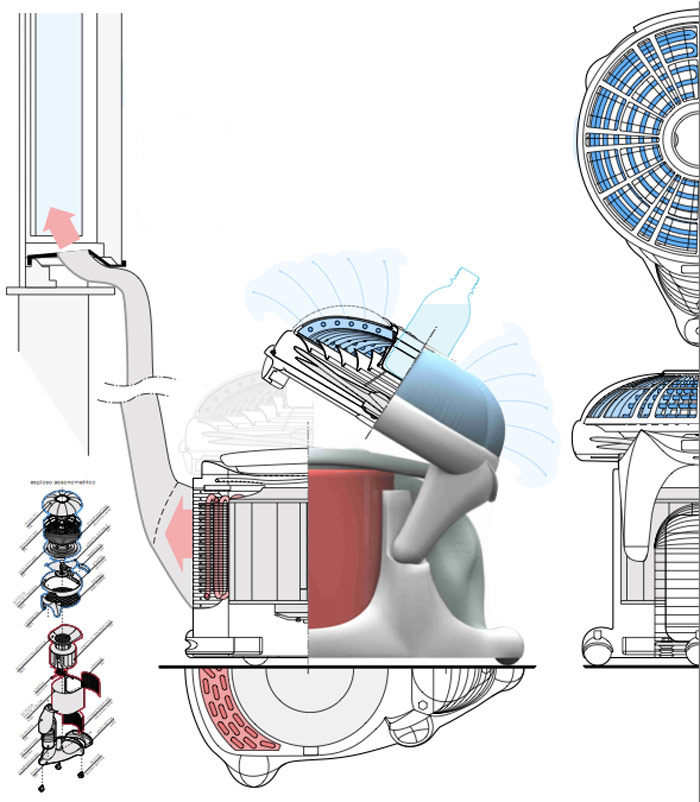 Condizionatore | Dario Toso, Daniele Bassano, Lander Ugarte
The methodological approach of the Design by components (Luigi Bistagnino, 2008), has been applied in the redesign of an air conditioning system for domestic purposes. Thanks to this approach, that critically analyses all the components of a current industrial product, it is possible to redesign new typology of products/production chains as well as the system they are introduced in. The redesign of the air conditioning was not a mere styling of it, but was a reinterpretation of the whole structure that allows to extend the product  life span (by easily updating, maintaining, reparing,…) and by reducing its energy consumption, and costs of maintenance.
2005 | NN Euroball: replacement of hydrocarbons in industrial processes of ball bearings with chemical solution made by water/sugar
The Systemic Design approach has been applied to the ball bearings production at NN Europe S.p.A. Inc. plant in Pinerolo, Turin.
The research project was carried out in collaboration with Zero Emissions Research and Initiatives (ZERI) with the aim to re-thinking the whole production process of 16,000 tons/year of steel balls. The first step was the design of bio-inspired lubricants in order to avoid the use of current hydrocarbon based lubricants that are one of the main contributors to the environmental impact of the whole production process. The observation of how nature exploits surface tension gave us the inspiration to design bio-inspired lubricants with natural surfactants. Highly biodegradable inputs such as cornstarch-derived surfactants, and coconut acid in solution with water and sodium bicarbonate, have been used to replace hydrocarbon based products.
\\Cristian Campagnaro, Riccardo Capo, Cinque miliardi di sfere, Casa Editrice Ambrosiana Zanichelli, 2009
2006| GARNIER – LINEA CONTINUA