2013 | Ferrino Spa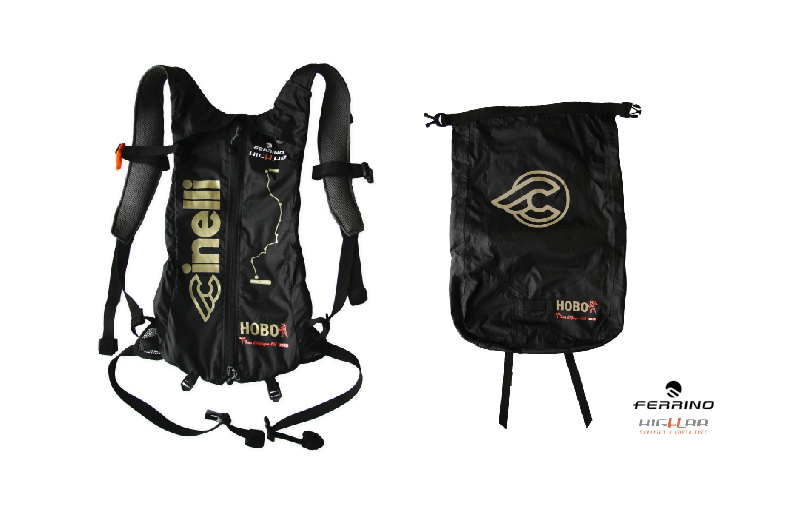 In 2013 I've collaborated with the High Lab design group at Ferrino Spa for developing a light back pack suitable for bicycle expeditions.
Environmental sustainability together with lightweight and functionality was the most important design requirement I have tried to accomplish with this backpack. I took inspiration from the lightweight and high-tech back packs used in back country skiing.
A great attention has been payed on lowering the environmental burden along the whole product life cycle, starting from the material selection until the design for disassembling when the backpack will turn in something else at the end of life.
An important need would be having both a light backpack for storing a water sack, and a larger bag for storing clothes, food and whatever needed for bikepacking.
After designing few concepts I've decided to combine these 2 functionalities in a single product. The dematerialization process drove me to design a removable external bag that can be added to the light backpack when necessary, mounted on the bike while riding, or folded and stored in the light backpack when not needed.
This choice allowed me to drastically reduce the number of components and make maintenance easier by keeping gears in action longer through repair and reuse, and recycling them when they're beyond repair.
The backpack has been conceived for being produced by using a single material in order to make the recyclability at the end of life easier. The prototype is made with Polyester based materials, but I'm also considering bio-based polymers as an option for a largest production.
The first prototype has been tested during Tour d'Afrique 2013.
CREDITS:
Collaborative project between: Ferrino S.p.A. | Dario Toso
Designer: Dario Toso
Product development at Ferrino S.p.A.: Anna Ferrino, Marco Chiaberge.